SADUN AKSÜT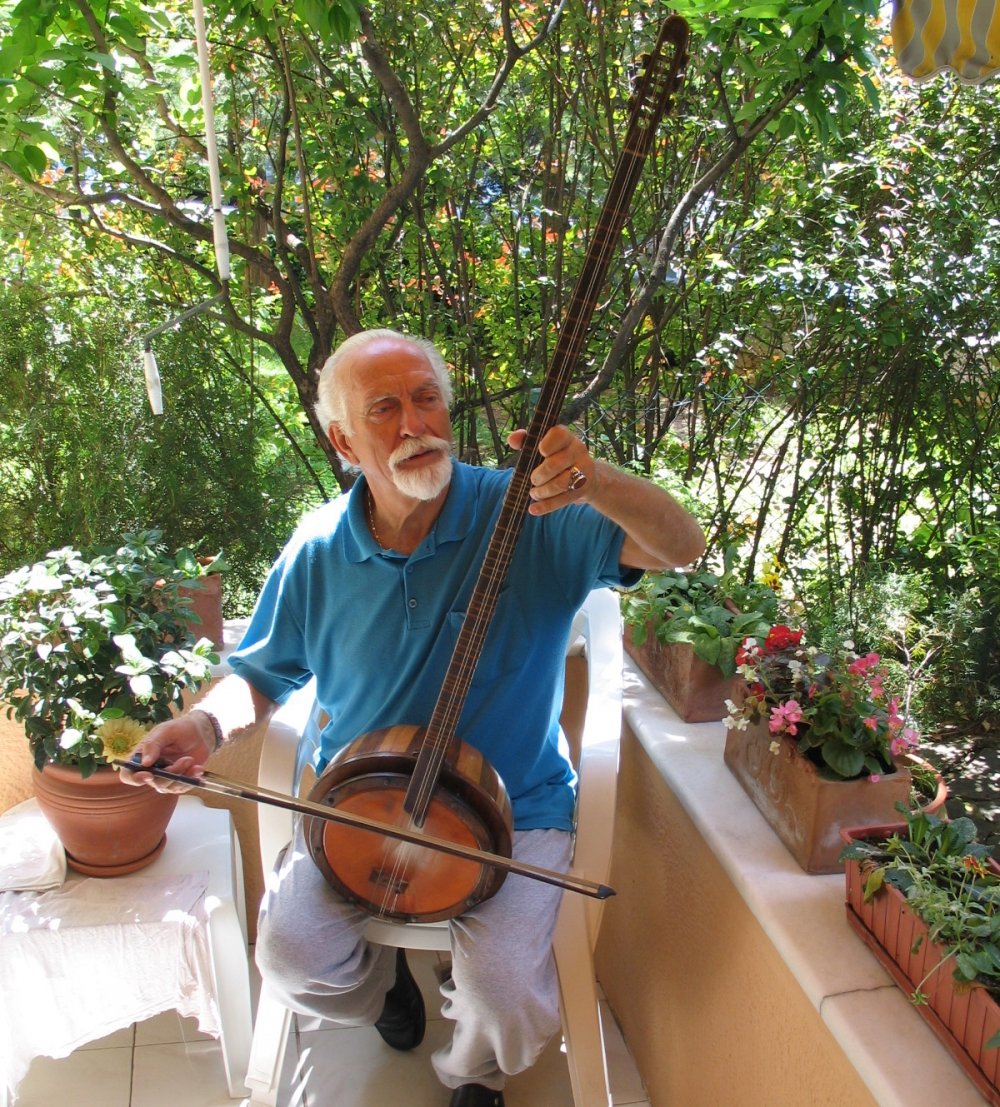 Sadun Aksüt was born in Merzifon on October 26th 1932. When he was just one his family moved to Istanbul. His musical education began when he entered the Istanbul municipality conservatory, where he was taught by Şefik Gürmeriç and Kemal Gürses. Before he graduated from the conservatory, he transferred to the advanced Turkish Music Conservatory Association and was taught by Hüseyin Sadettin Arel, Dr. Suphi Ezgi and Laika Karabey. His Tanbur education continued with Emin Ongan and then master Tanbur player İzzettin Ökte from the Üsküdar Music Community that he joined in 1950. The experience and education Sadun Aksüt received from İzzettin Ökte, continues to reflect onto his own students and ensures İzzettin Ökte's memory lives on through them.
In 1951 he began playing saz compositions on Istanbul Radio with his friends. In 1956 he began working as a civil servant at the Istanbul Radio's Turkish Musical Notes Library, as well as playing Tanbur as a solo artist and with various groups. In 1966-1967 he joined the Istanbul Municipality Conservatoire's Turkish Music's Board of trustees as a Tanburi. In 1967 he returned to the Istanbul Radio and continued his job as a tanbur player but as a member of the musicians union. From the end of the 1950's up until 1975 he worked in the music industry accompanying some of the biggest names of that time. He performed as the Tanburi at all of Münir Nureddin Selçuk's solo performances right up until Münir Nureddin Selçuk passed away.
In 1975 he began to teach tanbur at the Istanbul Turkish Music State Conservatory. He retired from the TRT radio in 1981 but continued his teaching position at the conservatory up until 1996, which was when he began teaching by appointment. Since 2000 Sadun Aksüt gives lessons by the hour and has said that he will continue to teach as long as his body allows.
Having been a member of TRT's Turkish Art Music Repertoire Board for 16 years, Sadun personally has over 100 songs, 24 hymns and a range of about 50 saz compositions, childrens' songs and a Mevlevi ayin-i Şerifi from the Sazkar makam. His saz compositions "Köyde", "Gelin Karşılaması" and "Ege'de Şenlik" were arranged for an orchestra by Yalçın Tura. The world premiere of these compositions was performed by the Istanbul Chamber Orchestra, conducted by Hakan Şensoy on September 24th 2004.
He has also released a number of books, one being the very first Tanbur Method (for beginners), 10 fasıl periodicals, The Anthology of 500 Years of Turkish Music; the joint translation with Rüştü Eriç of the old Turkish composition Dede Efendi (Rauf Yekta Bey'in Esatiz-i Elhan, Müzisyen Osmanoğulları, Güfteler Hazinesi, Tambur Metodu (Advanced Technique), Bahardan Hazana Esintiler (Poems), Alkışlarla Geçen Yıllar (Hatırat) and 100 Composers of Turkish Music.
In 2004, upon the request from his musician friend Dağhan Baydur he released the album 'Sisli Bir Eylül Gecesi' through Muzikotek. This album was a blend of Sadun's tanbur with a Western accompaniment. This album is in the Music Library.
This composer is also in Library