BEHÇET KEMAL ÇAĞLAR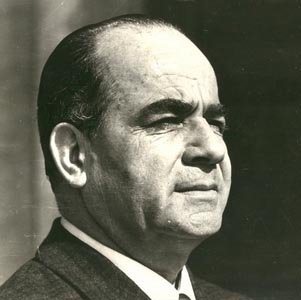 Behçet Kemal Çağlar, a poet and teacher was born in Erzincan's Tepecik village in 1908.
Due to his father's line of work, he was constantly moving around Turkey. He knew Atatürk very well and had dined with him, writing poems during the meals. Faruk Nafiz Çamlıbel and Eflatun Cem Güney were his literature teachers and his conversations with Yahya Kemal Beyatlı and Ahmet Hamdi Tanpınar were a huge inspiration to him.
Behçet Kemal's first poem was published in the magazine 'Hep Gençlik' that he and his friends released. In 1927 his poems were also published in the magazines 'Türk Yudu' and 'Hayat'. He used the pseudonym Aşık Ömer from Ankara as his signature for his poems published in the magazine 'Ulus'.
In 1949 he released the album Şadırvan. Before and after the military coup he hosted the show Our World of Poems on the Istanbul radio.
Behçet Kemal's poems are fuelled by two sources, form & self. He was seriously affected by the poets he met in the east. Behçet was also an MP for a while and was offered other political positions but turned them down stating that he was "disgusted by daily politics". He passed away on October 25th 1969.