AHMET KUTSİ TECER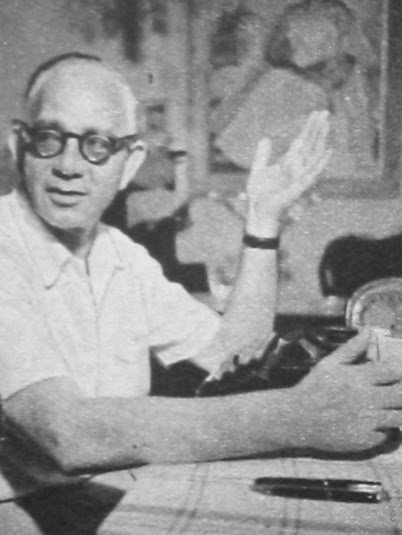 Ahmet Kutsi Tecer was born in 1901 in Jerusalem. He began his early education at Frères des Écoles Chrétiennes. He studied primary school and middle school at Kırklareli and then went to high school at Kadıköy Sultanisi in Istanbul. Following high school he finished the Halkalı Agricultural Training College in 1922, then passed the exam for Teacher Training College and studied philosophy for 2 years.
In 1925, he took a break from his studies in Turkey and travelled to France to study biology and continue his philosophy studies at the Sorbonne University. He reflected his experience in Paris through his poem 'Paris Acıları' (Paris Tribulations).
In 1928 he released articles in the Ethnography Magazine published by the Ethnographical Association. In 1929 he graduated from the higher educational facility where he was studying. He moved to Sivas in order to be a teacher of literature at the Sivas high school and became friends with Aşık Veysel. He formed the Association for the Protection of Folk Poems and through it worked to make folk music more popular and tried to introduced it into schools and get it air play on the radio.
He was among those who formed the State Conservatoire. Between the years 1947-1951 he was appointed the Paris Cultural Attaché and Student Inspector. During this period he also worked with "child prodigy" İdil Biret who was there for her musical education. Ahmet Kutsi Tecer died in 1967.
Ahmet Kutsi Tecer is not only a poet who gained a lot of his inspiration from local and national elements but he also used these elements to write many plays. His first published work was a book of poems released in 1932. In 2002, the Ministry of Culture published all of Tecer's poems. His plays are 'Yazılan Bozulmaz' (1946), 'Köşebaşı' (1964), 'Koçyiğit Köroğlu' (1949-1961), 'Bir Pazar Günü' (1957) and 'Satılık Ev' (1961). Köşebaşı was performed on stage for the first time at the Istanbul City Theatre. It was also translated into English and called The Neighbourhood. It was also staged in America. Ahmet Kutsi Tecer is the person who introduced Aşık Veysel to Turkey and discovered folk music compiler Muzaffer Sarısöze.