ŞENOVA ÜLKER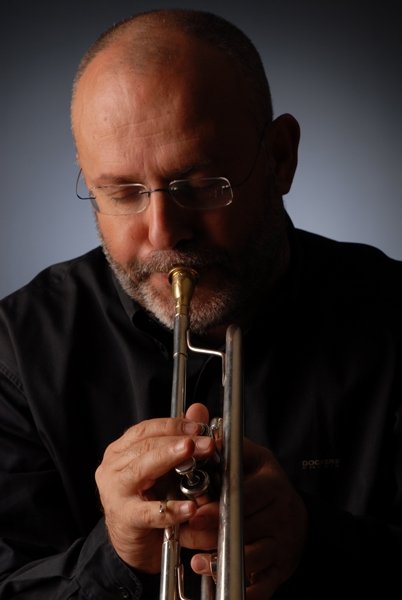 After his graduation in 1979 from Mimar Sinan University Conservatoire, Şenova Ülker began his professional life in music straight away by joining the Istanbul State Symphony Orchestra as the first trumpet. He continues to this day to act as the orchestra's group conductor and also acts as a Trumpet teacher at Istanbul University State Conservatoire and Mimar Sinan University State Conservatoire.
Apart from classical music, Şenova is also professionally very involved in Jazz music. During his years as a student, in 1977 he began playing with a band called 'Jazz Juniors' and at the time also learned Jazz theory from Emin Fındıkoğlu. He played numerous jazz-sessions and gigs with big names such as lly Hart, Buster Williams, Joe Henderson, Arto Tunç, Roy Hargrove and Sammy Figueroa. In 1996, he formed the group 'Şenova Ülker Big Band' which was a collective of young musicians and with this band he toured for about one and half years. In 1998 he joined the Latin band 'Pasaporte Latino' and is also featured on their album 'Latin Türküler'.
In 2004, he performed on Aşkın Arsunan's album 'One A Day' as a soloist and as part of a trio. In addition to this he performed on projects such as Emin Fındıkoğlu / Detant, Pop-Caz and Latin-Caz group: "0212", Emin Fındıkoğlu / Euphony, Aşkın Arsunan Ethno-Karma Project at the 7.International Istanbul Jazz Festivali, Dzihan & Kamien, Hicaz (Hi-Jazz), Önder Focan Group, Şenova Ülker Quartet, Jazz-on line, Q bar quartet.
Since the 70's Şenova has been involved in an endless number of album projects and currently continues to work with his trio Ş.A.L. / Kemik 3 made up of Aycan Teztel and Levent Altındağ in the studio. Şenova is also the founding member of the band 'Istanbul Superband' (previously known as Beck's Big Band founded in 2002) and continues to perform as a soloist trumpeter on stage.
He has performed at many festivals, 1985-86 Bilsak Jazz Festival, 1994 Akbank 4.Jazz Festival and Kuşadası Jazz Festival, 1995 Bursa 34.Culture Festival, 1996 C.R.R. Concert Hall / YKB Youth Festival, ODTÜ 1. Jazz Days, International Eskişehir Festval, 2000 International İstanbul Jazz Festival, 2001 Bodrum Jazz Festival, 2002 Afyon Jazz Festival, 2003 Afyon Jazz Festival, 2003 - 10. International İstanbul Jazz Festival, 2004 - 11. International Istanbul Jazz Festival.
Şenova has performed on albums by Aşkın Arsunan: "One A Day", Önder Focan Group's albums: Erken & Sekiz, Pasaporte Latino : Latin Türküler, Esin Afşar : Jazz Style Aşık Veysel, Arif Sağ : Concerto for Bağlama, Feyza : I'm New (Alto Horn), Dzihan & Kamien: Mc Sultan / Gran Riserva and Live from Porgy & Bess.