ŞEVKET RADO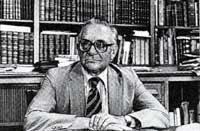 Şevket Rado was born on April 21st in Skopje, Macedonia in 1913. A journalist and writer, Şevket Rado also taught sociology at the Zoğrafyon Greek High school and Literature at the St. Joseph High School. He also taught the class 'Types of Writing' at the Istanbul University Journalism Institute. In addition to this, he hosted a family chat show on Istanbul radio for five years.
In 1956, he released the magazine Hayat; which sold 193,000 copies in its first edition, breaking a record in Turkey. Between the years 1958-1968 this number would go up to about 200,000.
Apart from Hayat, Şevket Rado also released and edited magazines such as the famous cinema-theatre magazine SES, Resimli Roman, Hayat Spor, Ayna and Hayat Tarih. Unfortunately the Hayat magazine and others were closed down due to a strike that began in 1978.
In 1961, he began to release the Hayat encyclopedia in sets which received huge interest leading to over 150,000 copies being sold.
Other than the Hayat Encyclopedia, Şevket Rado released hundreds of various educational publications, encyclopedias, dictionaries, childrens' books and wrote many poems under the pseudonym Şevket Hıfzı. Şevket Rado is the lyricist of one of singer Hümeyra's best known songs 'Kördüğüm' which was number one for a long time. He is also the uncle of famous writer Orhan Pamuk.