İLHAN USMANBAŞ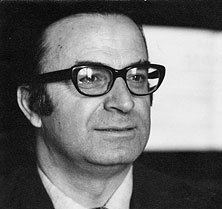 İlhan Usmanbaş was born on October 23rd 1921 in Istanbul. At the age of 12 he began to teach himself to play the cello and continued his musical studies with Sezai Asal during his education at the Galatasaray High School. When he finished high school in 1941 he began studying at the Istanbul Faculty of Literature and the municipality conservatory. He studied harmony with Cemal Reşit Rey and cello with Sezai Asal. He transferred to the composition branch at the Ankara State Conservatory and studied harmony, counterpoint & composition with Ferid Alnar, composition with Ahmet Adnan Saygun, cello with David Zirkin and piano with Ulvi Cemal Erkin. He graduated from the Ankara State Conservatory in 1948 and in the same year married soprano, Atıfet.
His first orchestral work inspired by Mozart's 'A Little Night Music' was written when he was still a student in 1946. In the same year İlhan Usmanbaş began searching for something new. He began reading Sartre and Leibowitz and following up on French literature. After having discovered Alban Berg's opera 'Wozzeck' in a book, along with Bülent Arel he began to analyse and perform other contemporary composer's works. His friendship to young composer Ertuğrul Oğuz Fırat who was not a conservatoire student also began at that time.
In 1952 via UNESCO he went to America and the same year he became one of the founders of the Ankara Helikon society. In 1956 he taught music history at the Ankara State Conservatory. Between the years 1957-58 with the assistance of a Rockefeller scholarship he went to America and got the chance to meet many composers. After 1960 he began to move away from serial composing and look for new techniques.
Over the years Usmanbaş acted as a teacher of composition, he wrote many books, translations and articles on the subject, amongst the most important are Müzikte Türler ve Biçimler translated from André Hodeir and 'Kısa Dünya Musıkisi Tarihi translated from Curt Sachs.