BİLGE ÖZGEN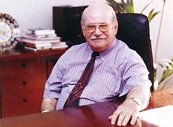 Bilge Özgen was born in Viranşehir in 1935. He finished primary school in Adana, his high school education in Kilis and graduated from the Ankara Boys School of Higher Education for Teachers. His early music education came from Sabri Özgen, who was a keen amateur musician.
During his years in Ankara as a student he met Vedia Tunççekiç and Erol Sayan. He acknowledges this as "the second era of music" in his life.
In 1959, as well as qualifying as a teacher in Malatya, he married Nevzat Özgen. In 1980, his composition 'Unutur Sanma Sakın' came 4th in a Top Ten Songs of The Year poll organised by Milliyet Newspaper, he came 3rd in the TRT-TUTAV's Song Competition in 1987 with 'Kız Sana Bir Hal Olmuş' and gained a 1st and 2nd place during the TRT's 25th Year Song Contest.
With over 500 compositions Bilge Özgen is one of the most significant composers in Turkish music history.