AŞIK İHSANİ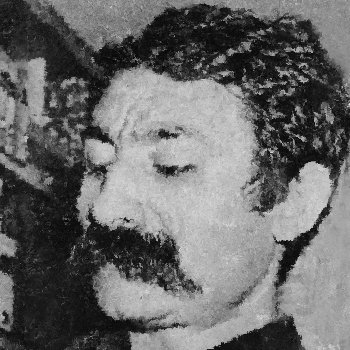 Asik Ihsani….His birth name was İhsan Sırlıoğlu and he was born in Diyarbakır in 1932. He began writing poems at a very young age. When he was two he lost his father and was brought up under very difficult conditions by his mother. He began going to different villages and cities in order to work. When he was seventeen he began working in the mines located in the Istanbul Büyük Çekmece Mimar Sinan Village, however when the mine was closed down he began working at a tyre factory right up until he went to Erzurum for his military service.
After his military service he began to teach himself the saz, and with his saz he travelled throughout Anatolia. During one of his journeys he met Manisa Tarzani and stayed with him a while. Aşık İhsani sang his folksongs to an imaginary girl called Güllüşah. In 1957 he began working at a sugar factory in Uşak. Shortly after that the man in charge of the Uşak jail tells İhsani that he had found the Güllüşah that he's always singing about, although the girl looked nothing like the girl of his dreams, he married her. İhsani taught her to play the saz and the two of them, performing as Aşık İhsani and Güllüşah began travelling the city. The duo began to receive huge interest from the locals, and had a book called Aşık İhsani and Güllüşah written about them. In 1958 they were invited to the radio programme 'Yurttan Sesler' on the Ankara Radio by conductor Muzaffer Sarısözen. Following that they began performing folksongs on the radio every Wednesday.
Years later he began travelling around Turkey for the Democratic Party rallies. He began writing songs like "Evvel Allah sonra Demokrat Parti". Aşık, together with his son Garip and his wife took part in an introductory film about Turkey filmed by the French. In 1962, a raise in the wages of MP's became big news, and around the time it was being discussed, Aşık went to parliament and protested. He met the Cultural minister from Belgium on one of his visits to Turkey and what followed was a statement in Belgium newspapers stating "Aşık İhsani, a man with a vision as long as his hair and beard"
With the founding of the Turkish Workers Party, he began to show an interest in leftist events. His first reformist poem was "Korkuyorlar, Korkacaklar, Korksunlar Geliyoruz, Geleceğiz, Yakındır". In interviews that followed this period, he would say how his life up until that point had been utter ignorance. His book 'Ağalı Dünya' was then published and his poems began being published in many magazines. He met Çetin Altan; around that time there was a lot of gossiping that the poems of Aşıks İhsani, Çetin Altan and many other left wing poets were being sent by the Soviet Union, people couldn't believe that people with no education could write such text. This matter made its way to the master Pertev Naili Boratav who said that Aşık İhsani was a "poet of the public", following this statement suspicions around Aşık ceased. In 1977 he travelled to Germany and Belgium and took part in programmes as a guest and received many awards. In 1979 he travelled to Australia. During his last years, Aşık İhsani moved to Diyarbakır in Turkey and passed away on April 21st 2009.