ALAN HOSMAN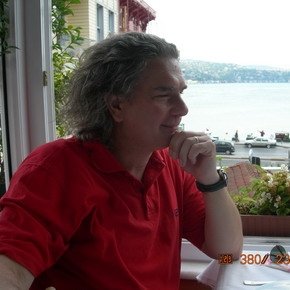 Alan Hosman was born in Istanbul on the 4th of March, 1960. In 1967, while he was in second grade he began playing the mandolin, then in the summer of 1970 he moved on to guitar. He was introduced to rock music in 1973 and started playing electric guitar and composing.

In 1979, as Alan entered the Conservatoire and became one of Carlo Domeniconi's students. He also began playing jazz with Kutsal Şeremet and Uğur Kaşka and in 1981, he attended two jam-session concerts with his band at the National Youth Jazz Ensemble.

When he started working at the National Fine Arts Academy, he met pianist Tuna Ötenel and bassist Selçuk Sun and got further into jazz. Around the same time he met Neşet and Nükhet Ruacan and worked together with them. When he was doing his military service in 1982, he worked with and learned from Lokomotif, Buğra Uğur and Turhan Yükseler. In 1983, he joined Grup Mass with Aykut Gürel, Artun Sürmeli and Ahmet Altuğ, and worked with this band for artists like Sertab Erener, Seden Gürel, and accompanied artists such as Nilüfer, Ayşegül Aldinç, Coşkun Erdem and İlhan İrem.

Around the middle of 1985, Alan lost his enthusiasm for music and decided to go into business. However, his departure from music didn't last long. In 1997, he composed "Sevda Türküsü" for Şahsenem and "Çok" and "Dünya" for Özlem Tekin's "Öz" album. In 2001 he gave up working in business and started composing full time. He moved to Switzerland with his wife in 2004 and in the same year began working with Muzikotek as a composer and lyricist. Alan currently has nearly 20 compositions. He continues to be an active composer.