AKIN ERDEM ERTÜBEY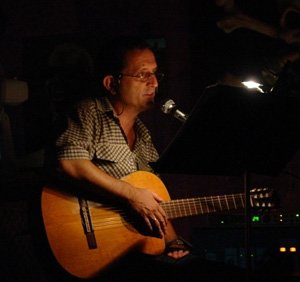 Akın Erdem Ertübey was born in Istanbul on the 4th of May, 1953. He started his musical career by playing guitar during his high school years. After graduating from Ankara University Faculty of Science (Department of Engineering), he began working for PETKİM Petrochemical Inc. where he spent 27 years.

He began composing in 1970. His composition "Güneşten Bir Küçük Parça Koparsam" (If I Could Pluck a Little Piece from the Sun) was featured on Nükhet Duru's "Her şey Yeni" (Everything is New) album. In the years to follow, many more of his compositions were featured in various Nükhet Duru albums like "Çek Halatı Gönlüm", "Yaz" and "Benim Yolum".
Other popular singers also featured his songs on their albums. Songs such as: "O Kadın Ben Olsam" on Nilufer's album "Sen Mühimsin", "Hayrettin" and "Yüreğim Götürmüyor" on Nil Burak's album "İşte Banko", "Hayranım Sana" on Candan Erçetin's album "Çapkın", "Elbette" ve "Olmaz" on Candan Erçetin's album "Elbette". "Öğüt" on Burcu Güneş's album "Tılsım" and "Diken Döşekler" on Nilgül's album "Pervane" .

Akın Ertübey also composed and wrote the lyrics to the well known 'Kartal' (Eagle) chant dedicated to the Beşiktaş football team for their 100th Anniversary. Akin also wrote the 100th Anniversary Album.

One of his compositions was featured on a Aysun Kocatepe album.
This composer is also in Publishing